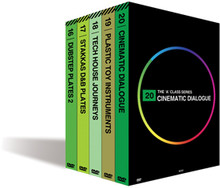 Time+Space has announced 5 new titles in the A Class Series of sample libraries by Digital Redux.
New 'A Class Series' titles
A Class Series: Dubstep Plates 2

DUBSTEP PLATES 2 was created for the serious Dubstep producer who is looking for a tougher and heavier sound. This sample pack exhibits a collection of fresh sample material presented in the form of 20 construction tracks and an additional folder of nasty wobble bass loops.

Each construction track showcases many styles while at the same time sticking to its guns as music intended for the club. These construction tracks are stripped down to a bare bone groove and are presented with every element available for use. All sounds are arranged in multiple formats for easy integration into your productions.

This library is over 3.5 GB in size and contains 865+ Audio Samples and 225+ REX2 Loops.
A Class Series: Stakka's DnB Plates

STAKKA´S D&B PLATES was created by the acclaimed Drum & Bass producer and DJ Stakka. Stakka has been a producer for 20 years, starting his career in the early 90´s by producing and releasing Hardcore and UK Rave music on white label.

This multi-format sample pack takes you through some of the samples from his vault alongside a huge amount of fresh material, including 293 new break loops, 150 top end percussion loops, 100 bass samples and 10 slamming construction tracks. Each of the construction tracks are stripped down to a bare bone groove and with every element available for use.

4GB+ with 718 MB of original material including 730+ Audio Samples and 540+ REX2 Loops.
A Class Series: Tech House Journeys

Tech House, in its many forms, is currently one of the hottest sub-genres of the underground dance music movement. It is a scene that is driven by some of the most pioneering electronic music producers

This library presents a palette of stylistically diverse construction tracks. Each construction track is broken down into its individual elements with solid drum loops, snappy drum kits, dirty and funky bass lines, cool and dubby synth riffs, and ear candy FX samples.

Multi-format. Over 4 GB in size, with 755 MB of original material including 360+ Audio Samples and 320+ REX2 Loops.
A Class Series: Plastic Toy Instruments

The creator of this library has collected musical toys and instruments of the past 40 years and has searched out and found some of the coolest sounding children's instruments. This collection exhibits some of the most rare, unusual, and unique sounding keyboards and toys ever made.

Among some of the instruments recorded are xylophones, glockenspiels, music boxes, musical toys, a variety of very cool, cheap, plastic keyboards, pianos, drum and percussion, and many more.

Multi-format. Over 4.41 GB in size with 2630+ Audio Samples.
A Class Series: Cinematic Dialogue

Cinematic Dialogue is a 4.6 GB sample library of spoken word samples intended to add a cinematic dimension and ambience to your productions and recordings.

The library contains dialog from vintage movies, documentaries, historic speeches, and NASA's archives. The dialogue is arranged into categories such as sci-fi, drama, and horror movies, computers and technology, and NASA archives.

This library is a very useful tool for producers of any genre. All of the dialogue samples in this pack are taken from the public domain and therefore are free of copyright or the copyright has expired.
The A Class Series sample libraries are available to purchase for £19.57 GBP / €25.45 EUR / $39.10 USD each.
More information: Time+Space