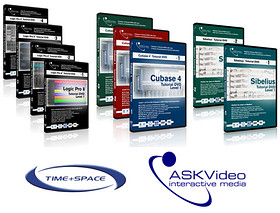 Time+Space has announced it will be the exclusive UK distributor for ASK Video, an energetic young company that aims to create the best tutorial software on the market.
Well-versed in today's cutting edge technology, ASK Video uses high quality video and audio to bring a rich and inviting learning experience to digital audio and video customers around the world through interactive video DVD's. ASK Video also provides professional audio services from their state-of-the-art studio facility as well as professional video services complete with on-site shooting, editing, and post-production.
ASK Video's huge range of instructional DVDs cover the most popular recording platforms including Cubase, Logic, Garageband, Pro Tools, Sibelius and Reason – from the very basics right through to the more advanced features of each package. A large selection of mastering and mixing tutorial DVDs and books are also available offering users a rich and inviting learning experience.
ASK Video products will be available from Time+Space in early April.