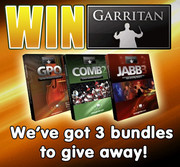 Time+Space has announced a contest where you can win one of three Garritan instruments bundles worth £297 each.
Garritan is responsible for some of the world's most affordable and authentic-sounding virtual instruments with titles such as Personal Orchestra, Jazz & Big Band and Concert & Marching Band all proving hugely popular amongst music producers of all levels.

November 2009 brought the release of Personal Orchestra 4 which saw Garritan move away from Kontakt and introduce ARIA – an intuitive, versatile and highly-optimized instrument engine which loads instruments quickly and places very low demand on the CPU.

Since then, Jazz & Big Band 3 has followed suit and the DVD version of Concert & Marching Band 2 has arrived at Time+Space this morning which will complete the updated line up.

But the new titles for 2010 don't stop there as Garritan also promises the release of his brand new eagerly anticipated 'World Instruments' library before Christmas. This comprehensive collection of expressive and rare exotic instruments from around the world will add diversity and spice to your music.
Answer a simple question for a chance to win one of three Garritan bundles each containing Personal Orchestra 4, Jazz & Big Band 3 and Concert & Marching Band 2. The competition ends this Thursday, 30 September, 2010.
More information: Time+Space