Time+Space has announced a new competition in which you can win ESI monitoring speakers and iZotope effects plugins.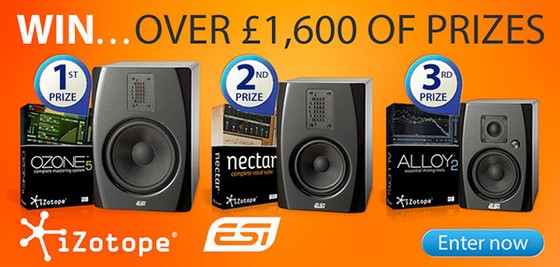 You're pleased as punch with the bassline, the chords are catchy and the lyrics are simply genius but unless you've got the right tools for mixing and mastering, your track will probably lack that professional polished finish.

Thanks to software developers like iZotope, this can all be achieved easily in your home studio with plugins such as Ozone 5 Mastering Suite, Alloy 2 Essential Mixing Tools and Nectar Vocal Suite all helping you to get impressive results with relatively little outlay.

Of course, you need a decent set of monitoring speakers as well, and that's where ESI come in. Earlier this year the German audio specialists released their Unik product line – professional quality active reference monitors that produce a clear, strong and precise sound thanks to the extraordinarily light membrane of the ribbon tweeter.

UK-based distributor Time+Space are giving you the chance to win a pair of Unik monitors plus iZotope software in their October competition with a total prize giveaway totaling over £1600!
Competition prizes
First prize: Pair of ESI Unik 08 monitoring speakers and iZotope Ozone 5 Complete Mastering Suite
Second prize: Pair of ESI Unik 05 monitoring speakers and iZotope Nectar Complete Vocal Suite
Third prize: Pair of ESI Unik04 monitoring speakers and iZotope Alloy 2 Essential Mixing Tools
The competition is only open to European residents and ends on 31st October, 2012.
More information: Time+Space