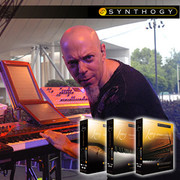 Time+Space has announced a Jordan Rudess competition, with prizes from Synthogy, Time+Space and Jordan Rudess.
For most Prog Rock and Synth fans, the name Jordan Rudess is instantly recognisable. A world-renowned progressive rock keyboardist for Dream Theater who is also enormously successful in his own right, Jordan's playing technique is enthralling to listen to and purely hypnotic to watch with a level of excellence that also extends to his compositional and arranging abilities.

Fans of Jordan will know he is also a long-time fan and friend of Synthogy – one of the world's leading developers of virtual piano software. Their Ivory product line which includes Ivory Grand Pianos, Ivory Italian Grand and Ivory Upright Pianos, has become the industry standard for music producers and composers all over the world. In fact, Jordan loves the sounds so much he recorded his recent solo album 'Notes on a Dream' entirely with Ivory!

We'll be interviewing Jordan Rudess in October for a special Time+Space online feature and we're giving you the chance to ask the questions!

Send your questions for Jordan to us and we'll pick the ten best for the interview. The entrant for each question that is picked will receive a special Time+Space 25% discount code and the winning question (picked by Jordan) will win all three Ivory products plus a copy of Notes on a Dream signed by the man himself!

So, get your thinking caps on – what questions have you been dying to put to Jordan that other interviewers have neglected to ask? We're looking forward to receiving some original and imaginative entries!
Closing date for submitting your questions is 30 September, 2009. You may enter more than one question, however only one question per person can be picked. Winners will be notified by email prior to the interview which will be published on the Time+Space website in October.
More information: Time+Space