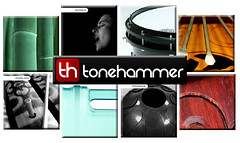 Time+Space has announced the availability of downloadable Tonehammer products at its website.
Tonehammer is owned by Academy Award Winning Composer, Troels Folmann and TEC Award Winning Sound Designer, Mike Peaslee. Many of their unique sample packs are recorded with percussion instruments custom-built by Tonehammer themselves.

Take 'Frendo' for example, a percussion and string instrument created by stringing bailing wire around and through steel plates and bolts, over galvanized steel piping and across wood planks. The instrument holds a vast amount of otherworldly sounds, which is ideal for composers looking for new disturbing, horror-like textures for their scores.

Other titles include 'Propanium' – a highly emotive, metal based, tongue drum; 'Bamblong' – an exhaustively sampled bamboo log drum; 'Rust' – 18 different metallic 'instruments'; 'Hang Drum' – a unique tone-based instrument, and many more.
Tonehammer products are now available for download from the Time+Space website, starting at £19.95 GBP.
More information: Time+Space