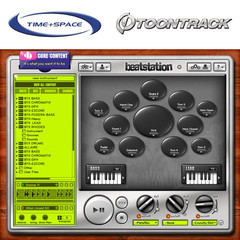 Time+Space has announced a giveaway promotion for Toontrack's upcoming Beatstation.
Announced last month and summarised by the developers as a ´Tonal and Percussive, Open Surface, New Generation Virtual Instrument´, Beatstation is Toontrack's first foray into tonal sampling and gives you a complete workstation for creating and editing not just drums, but any kind of instrument.

Beatstation allows you to drag and drop your own Wav, Rex, MP3 and Toontrack library sounds on to the virtual drum pads from the Beatstation browser or from your computer hard drive, mixing and matching any sounds available to build brand new personalised sound sets. The program also has a built-in 'sampler recorder' which patches any sound, via a microphone or line feed, into the software for even more layering possibilities.

More details about the product, which is due for release in May, are being unveiled each week through video presentations that explore the numerous and surprising features of Beatstation.

Make sure you're kept in the loop with the latest news and videos as and when they are announced by signing up via Time+Space's Beatstation page and you could be one of five lucky winners to receive a copy of the product when it's released!
Visit Beatstation at Time+Space for more information.