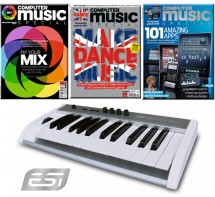 Time+Space has announced a contest in which you can win an ESI Keycontrol 25XT and CM Special subscription.
Did you know that not only do those hard working people at Computer Music deliver a magazine packed full of first class tutorials, reviews and software each month, they also publish a bi-monthly spin-off mag that focuses on a particular aspect of music production or a popular software package?

Computer Music Specials have been around since 2002 with early issues showing us how to burn our own CDs "There's nothing quite like holding a CD of your own music in your hand", and Time+Space adverts featuring the very first release of Garritan Personal Orchestra, Rob Papen's Albino 2 and Toontrack's DFH Superior.

Nowadays we're being advised on the best ways to distribute our music online, Garritan Personal Orchestra is on its 4th version and Toontrack has pushed the boundaries of drum sampling to the extreme with Superior Drummer 2.0.

One thing that hasn't changed however, is the computer musician's need for Midi keyboard controllers, which explains the huge demand for ESI's brand new KeyControl 25 XT keyboard. With robust aluminium casing, and no extra power supply or drivers needed, Keycontrol 25 XT is the ideal solution for musicians on the road or in the studio. These features combined with an RRP of just £79 means it came as no surprise that our first shipment sold out straight away!
Time+Space is offering a chance to win one of three prize bundles each containing ESI's new controller and annual subscriptions to the Computer Music Specials.
To enter, all you need to do is send Time+Space the answer to the following simple question: "What is the name of ESI's new MIDI controller?"
The competition closes 31st October 2010 and the three lucky winners will be announced in early November.
More information: Time+Space