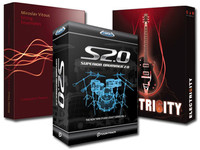 Time+Space has announced a limited time Easter Bank promotion, offering 20% off 'real' instruments and sounds.
This Easter Bank holiday weekend we´re going to back to basics with discounts across a range of virtual instruments and sample libraries that are geared specifically towards real instruments – the authentic sounds of live drums, pianos, guitars, brass, strings and so on.

There are 16 titles to choose from including Toontrack's Superior Drummer 2.0, Vir2's Electri6ity, Garritan's Steinway Basic and Big Fish Audio's Funk Soul Horns to name just a few…
Offers end midnight on Monday 25th April, 2011.
More information: Time+Space