Since last year, Dan Graham and Adam Hanley of Gothic Instruments have released two Dronar atmospheric sound creator instruments, and the first two titles in a series of Sculptor sound design tools for Kontakt.
Gothic Instruments has quickly built a strong reputation for developing incredibly expressive and intuitive sound design tools for Kontakt that are easy to use and sound great.

From the colossal impacts and energetic whooshes of the SCULPTOR series and the rich and dramatic atmospheres and soundscapes that can be created with the DRONAR line of products, these tools offer limitless potential for film, tv and video game soundtracks as well as electronic and ambient music.
The libraries have been received very well, with great reviews from the likes of Sound On Sound, MusicTech, and AskAudio.
Distributor Time+Space is offering you the chance to win the Gothic Instruments Complete Bundle, which includes all four libraries.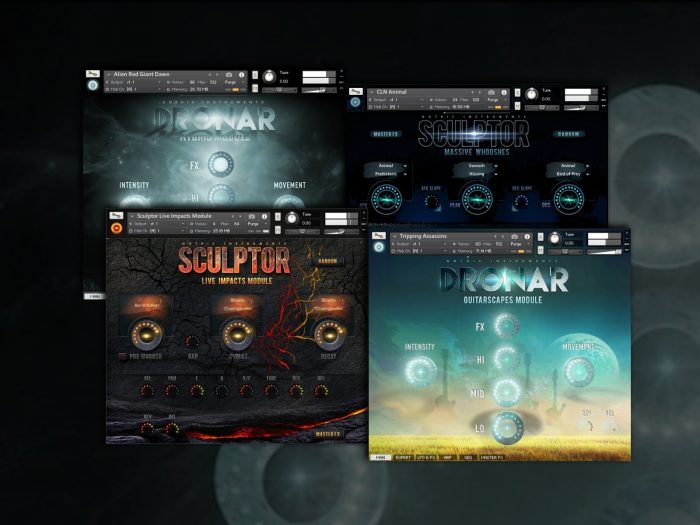 DRONAR Hybrid Module makes it astonishingly easy to create rich, dramatic, complex and evolving atmospheres with a set of controls designed to invite deep exploration, expression and discovery. Incredibly innovative and addictive, there is nothing quite like DRONAR for offering so much live expression control – it will change the way you create atmospheric sounds.
DRONAR Guitarscapes Module allows for creating a massive range of guitar-inflected textures from natural strummy accompaniments to wildly complex and awe-inspiring soundscapes. The library features hundreds of beautiful presets and a huge set of controls designed to invite deep exploration, expression and discovery. Whether you're a beginner or an expert, you can create mind-expanding atmospheres simply from playing a very small number of notes.
SCULPTOR: Live Impacts Module lets you create monstrous slamming impacts, ear splitting strikes and thundering blows in an instant with a set of simple, sound-shaping dials that also allow for a high level of customisation. Creating monumental events that induce panic, fear and excitement amongst your audience has never been easier.
SCULPTOR: Massive Whooshes is the second module in Gothic Instruments´ exciting series of innovative sound design tools for Kontakt. Create speed, excitement, tension and surprise with a compelling combination of thousands of raw sounds and SCULPTOR´s dynamic features and controls.
For a chance to win this great bundle, all you need to do is fill out the form below, before March 12th, 2017, 11.59pm CET.
Good luck!
More information: Time+Space / Gothic Instruments