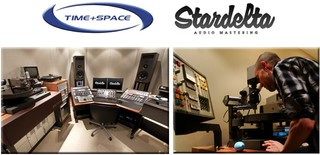 Time+Space has launched a competition in which your can get your tracks mastered courtesy of Time+Space and Stardelta.
Mastering is the final link in the chain between the artist and the factory and can all too often be the stage at which your hard work can be compromised by the desire for loud, competitive masters on a realistic budget.

Lewis Hopkin is the owner of Stardelta – a state of the art, world-class facility located deep in the rolling valleys of Dartmoor National Park in Devon. The Stardelta team use a combination of some of the finest analogue and digital equipment available, to ensure a musician's master sounds the best it possibly can.

The Time+Space team met Lewis when he tried out some products in the studio at Time+Space HQ and they got talking to him about the world of mastering. As a result, the latest T+S blog post was born and they think you'll find it a very interesting read. What's more, Lewis has very kindly offered his mastering services for a brand new Time+Space competition!

Simply enter the competition by sending them the answer to a very simple question and you could be randomly selected to have two of your tracks mastered and cut to vinyl by the very generous people at Stardelta.
Competition closes 7th February 2011.
More information: Time+Space