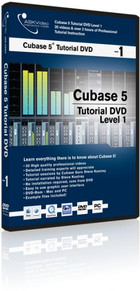 Time+Space has announced it is now shipping Cubase 5 Tutorial DVD Level 1, the first in a 4 part series in which Ask Video will take you through everything you need to know to get started with Cubase 5.
They will start right at the beginning with setup, and taking a tour of the new interface. All the basics will be covered – plus they´ll start to dig into some advanced features.

If you´re new to Cubase or want some help getting accustomed to the latest version, than this DVD is perfect. It´s also great for those advanced users out there that haven´t loaded up a project in a while and need a quick refresher. This DVD is perfect for all Cubase users!! It's the next best thing to having the expert right there beside you.

With thousands of hours of seminar experience under his belt, Cubase Guru Steve Kostrey explains in a step by step, easy to follow style, how to get the most out of Cubase 5.
Cubase 5 Tutorial DVD Level 1 features
32 Videos.
Over 3 hours of professional instruction.
Extremely high quality tutorial videos.
Easy to use interface.
Made for Cubase 5 but also great for users of Cubase LE, Cubase AI, Cubase SX3, Cubase 4 and Nuendo.
Mac OS X & Windows compatible.
DVD-Rom, DVD (NTSC) and DVD (PAL) all in one package.
Cubase 5 Tutorial DVD Level 1 is available from Time+Space at a 25% discount until the end of July, for £26.99 GBP / 29.99 EUR / $ 37.49 USD (inc. VAT).
More information: Time+Space