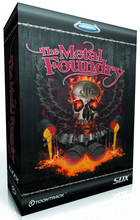 Time+Space has announced it is now shipping The Metal Foundry SDX, a new expansion pack for Superior Drummer 2.0.
From the press release:
Following the release of The Lost New York Studios SDX back in March, Toontrack have delivered their eagerly awaited second expansion pack for Superior Drummer 2.0…

The Metal Foundry SDX is an all-new recording with Meshuggah drummer Tomas Haake, featuring seven massive drum kits, spanning 300,000 sound files of raw, single hit drum recordings in the vein of Drumkit From Hell and dfh Superior, covering Hard Rock to Metal, from the early Blues tinged sound of the late 60s to the fragmentation of today's music, from Power through Thrash, Death and Progressive Metal.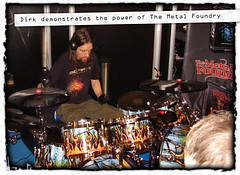 The Metal Foundry SDX was recorded and produced at Atlantis Studios in December 2008 by the original Drumkit From Hell recording team, Mattias Eklund (Toontrack® Music), Fredrik Thordendal (Meshuggah), Daniel Bergstrand (Dug Out Studios) and Tomas Haake (Meshuggah).
Dirk Verbeuren, drummer for heavy metal bands Soilwork and Scarve who recorded custom MIDI for The Metal Foundry, demonstrated this awesome product at the London International Music Show last week and it went down a storm!
The Metal Foundry SDX is now available from Time+Space for £125 GBP / 139 EUR.
Visit Toontrack for more information.