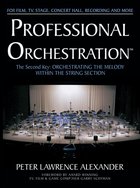 Time+Space has released Professional Orchestration Volume 2a, a book which uncovers the scoring techniques used by top film composers.
magine learning the scoring techniques creating the "Hollywood Sound" usually known by only a few top professional film orchestrators and composers. Now for the very first time, starting with Professional Orchestration™, Volume 2A, Orchestrating the Melody Within the String Section, the hidden doors on the techniques you´ve been hearing in the scores of John Williams, Jerry Goldsmith and others for years, are, at last, finally open. Thus, after months of painstaking research, the "secret formulas" are secret no more.
Professional Orchestration features
596 pages, Illustrated, Optional MP3 audio package available.
Loaded with references from 35 works including Holst's The Planets, Tchaikovsky's Nutcracker Suite and Dukas' Sorcerer´s Apprentice in a large full page/full score format (that you can MIDI mock-up at your leisure).
63 techniques are referenced meticulously in the low, medium, high and very high registers which are matched to the optional MP3 audio package where excerpts are heard in the musical context of the scores.
Professional Orchestration is available for £35.19 / €46.94.
Visit Time+Space for more information.