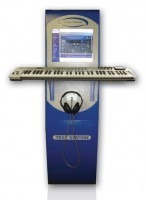 Time+Space has announced a major update for its dealer Test Stations.
It was a little over 4 years ago when UK distributors Time+Space began rolling out their Test Stations into pro audio retailers in the UK and Ireland. There are now 20 kiosks located across the British Isles, giving the customer a unique opportunity to test drive the latest software and sample based products before they buy.

The Test Station is an ideal way to audition both sample libraries and software products and Time+Space have just completed a new software update which adds a series of brand new virtual instruments and sample products. This includes Trilian from Spectrasonics, Morphestra from Sample Logic and the 4th Edition of Garritan Personal Orchestra.

There are now more than 500 products loaded on the Test Station – the sample libraries can be listened to in full and many of the virtual instruments can be played using a 49 note MIDI keyboard.
More information: Time+Space