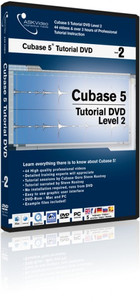 Time+Space has announced it is now shipping Cubase 5 Level 2, a tutorial DVD from ASK Video.
In Level 2 of this four part series Ask Video dive right into the advanced features. Make sure you've seen Level 1 so that you have a good foundation of the basics. They´ll cover more of the new Cubase 5 features and really take a look at VariAudio and all it´s possibilities.

With thousands of hours of seminar experience under his belt, Cubase Guru and former Steinberg product specialist and clinician, Steve Kostrey explains in a step by step, easy to follow style, how to get the most out of Cubase 5.
Cubase 5 Level 2 features
44 Videos.
Over 3 hours of professional instruction.
Extremely high quality tutorial videos.
Easy to use interface.
Made for Cubase 5 but also great for users of Cubase LE, Cubase AI, Cubase SX3, Cubase 4 and Nuendo.
Mac OS X & Windows compatible.
DVD in English, Français, Deutsch, Italiano & Español!
Cubase 5 Level 2 is available to purchase for £35.99 GBP / €39.99 EUR.
More information: Time+Space