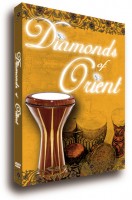 Time+Space has announced it is now shipping Diamonds of Orient, a collection of rare oriental percussion construction kits & single instrument loops by Best Service.
Real percussive diamonds played by native top musicians Natik & Xeyam, Nistemann Sansar, Celal Sansar, Emrah Sansar, Oezkan & Efkan Durmaz !!!

A huge variety of oriental and ethnic percussion styles in 3/4, 5/8, 6/8, 7/8, 9/8, 10/8, 12/8 measure. Userfriendly cut, combinable with each other and ready to use also in a 4/4 track!

This acoustic journey takes you from the Caucasus to Balkan, with sonic stopovers in Azerbaijan, Turkey, Persia, Chechenia, Turkmenistan, Bulgaria, Greece, Iraq and Macedonia!
Diamonds of Orient features
113 Construction Kits & 846 Single Instrument Loops
Instruments:

Nagara & Gosha-Nagara played by the azerbaijani top musicans Natik and Xeyam.
Hi- & Bass Darbuka by Nistemann Sansar.
Davul & Bendir by Celal Sansar.
Bongo, Tef, Shaker, Tumba, Zil, middleanatolian Spoons by Oezkan Durmaz.
Hollo & Udu by Emrah Sansar.

Styles:

12/8 Lezgi – Chechenian folk dance, Persia, Middle Asia.
5/8 & 6/8 – East & South Anatolia, Turkmenistan, Arabia.
6/8 Azerbaijan, Persia.
7/8 & Rumeli – Balkan, Turkey.
9/8 Roman – Turkey, Greece, Bulgaria, Macedonia, Bosnia..
10/8 folk music Turkey, Irak.
4/4 grooves Ciftetelli, Vahde, Malfuf, Baladi, Maksum, Sebare, Zafa – used all over the Orient..
3/4 classic turkish- & oriental grooves.

55 Bpm – 260 Bpm
Dual Layer DVD 6,35 Gb (WAV 1,99 Gb)
Multiformat: WAV, AIFF, REX2, SAGE (Stylus RMX)
Diamonds of Orient is available now for £74.95 GBP (inc VAT).
Visit Time+Space for more information.