Time+Space has announced that sound developer Sonic Atoms has joined its top quality line up of premium soundware brands.
A relatively new music software developer, Poland-based Sonic Atoms produces creative tools for composers and music producers, kicking off recently with Baltic Shimmers – an underscore/ambient sound library for the free HALion Sonic SE plugin.
Today, the company has announced the release of Baltic Shimmers Omnisphere Edition taking the library to whole new level with the mighty layering and manipulation possibilities offered by Spectrasonics' powerful engine.
Baltic Shimmers
Inspired by the mysterious, vast yet beautiful nature of the sea, Baltic Shimmers offers an incredibly expressive collection of ambient sounds made from organic sources such as the sea, birds, and acoustic / electric musical instruments.
Baltic Shimmers comes with a custom GUI built for Steinberg's free HALion Sonic SE plugin, which offers easy customization, navigation and manipulation. The instrument has 3 types of sounds: Shimmers, Pads and Drones which each have their own unique function and GUI page.
Shimmer type has 3 stages which can morph from static, through wave into foam or as Sonic Atoms like to call it "shimmer". Pad type on the other hand is more traditional but built from 3 atoms. Every atom is a unique sound. Atom 1 and 2 is always a long textured played forward or backwards, while atom 3 is a sea noise which is always triggered on key release.
Baltic Shimmers Omnisphere Edition
This new edition of Baltic Shimmers ships with 144 patches and 144 sound sources for Spectrasonics Omnisphere. They can be layered, mixed and manipulated all from within the engine, allowing you to instantly create exciting new custom presets of your own.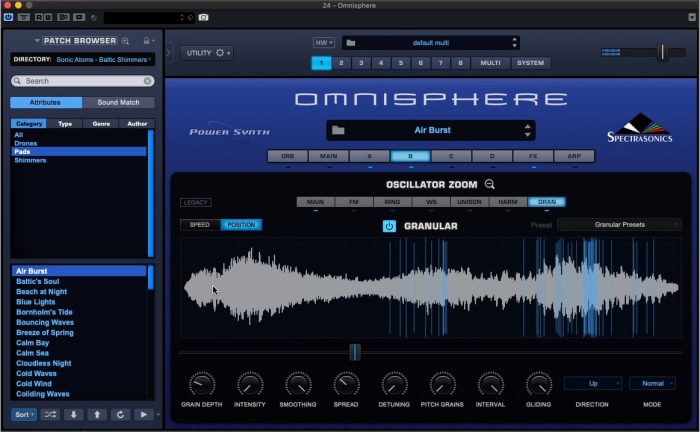 The library is divided into 3 categories: Shimmers, Pads and Drones which all come from the original Baltic Shimmers sample library.
Both versions are available now, priced £35 GBP or 39 USD/EUR each.
To get the absolute most out of Baltic Shimmers, you can also purchase the Baltic Shimmer bundle which combines the original HALion version and the Omnisphere Edition for only £44.95 GBP or 49 USD/EUR.
More information: Sonic Atoms