TK Audio has announced the immediate availability of DP-2, a flexible dual microphone preamp.
The DP-2 has a number of user-selectable circuit options, which makes it a cost-effective way of covering a wide range of preamp characteristics.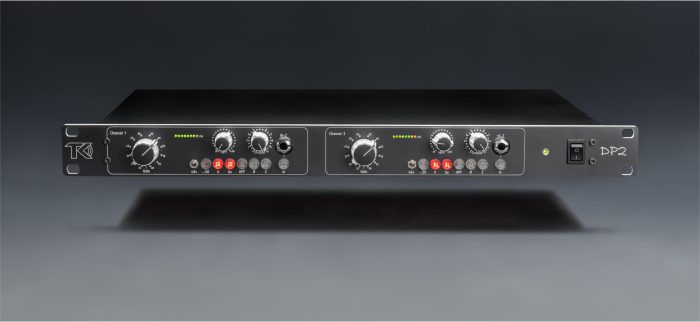 Each of the DP-2's two channels is transformer balanced, using a high-end Lundahl transformer. The amplification stage offers a whopping 80 dB of amplification. This stage is switchable between two entirely different circuits, of which one is designed for maximum transparency and the other adds a bit of midrange crunch, thanks to its germanium transistors.
Similarly, the output stage is also switchable between two distinctly different circuits. One is electronically balanced—again, for maximum transparency and fidelity—while the other is a class A output circuit based around a Carnhill transformer for the coveted British 70's character, with its low-mid presence and pleasantly rounded top end.
These options can be combined in any way, and furthermore, the DP-2 has separate input and output gain controls—leaving it up to the user to keep a conservative input level for low distortion or deliberately overdrive the preamp for a more pronounced character. All controls are stepped for precise recall. All in all, these variations make the DP-2 a cost-effective way of achieving a wide range of preamp characteristics.
Each channel also has a sweepable high-pass filter (ranging from 30 to 400 Hz), switchable input impedance, 48V phantom power, a 30 dB pad and a Hi-Z instrument input.
DP-2 replaces the existing DP-1 and is available from today via authorized TK Audio dealers worldwide, priced at $1,649 USD/1,329 EUR/£1,149 GBP excluding sales tax/VAT.
More information: TK Audio DP-2