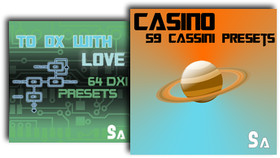 Sunsine Audio has released two new soundsets: To DX With Love for DXi and Casino for the Cassini synth for iOS.
Sunsine Audio's love letter to the glorious world of 80s FM. 64 presets for the DXi iOS synthesizer, utilizing every feature of the instrument. From bright, bell-like, and cutting to dark, fuzzy and rich, these presets emphasize everything desirable about FM.

One of our favorite new synths for the iOS, Cassini is very powerful and sounds great but unfortunately doesn't come loaded with a good deal of sounds. Casino is our response – 59 high quality presets showcasing this synths strengths, namely its ability for deep, rich evolving sounds and extensive, dynamic modulation. Thick basses, ethereal pads, glitchy "arp-chord" chiptune, vintage replications – we even threw in a oldschool gunshot!
The soundsets are available to purchase for $2.49 USD each.
More information: Sunsine Audio