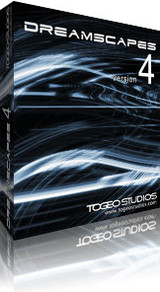 Togeo Studios has released Dreamscapes 4, a free Ableton Live Pack.
Part 4 of the Dreamscapes series, another free Ableton Live pack from Togeo Studios is now available for download. Dreamscapes has always been one of our favorite and most popular series and part 4 is no exception. With another one hundred plus new atmospheric soundscapes, rythmic drones, airy pads and swirling background textures Dreamscapes 4 will provide you with an arsenal of soundscapes and effects to top off any music project.

These highly tweakable instruments for Ableton Lives simpler device can be used with almost any musical style and genre and will be a welcome addition to your sound library and music production toolkit. Perfect for film scoring, soundtracks, atmospheric or chilled out ambient and electronic mixes. Each intrument rack has an assortment of macro presets allowing you to quickly alter the sound and effects for a virtually unlimited range of tonal variation.
Dreamscapes 4 is available to download as a free Live Pack for Ableton Live 7 or higher.
More information: Togeo Studios