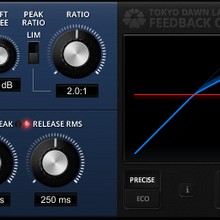 Tokyo Dawn Labs has announced beta 4 of the freeware Feedback Compressor II effect plugin.
The TDR Feedback Compressor II is a radical revamp of its critically acclaimed predecessor. The processor elegantly combines the self-adjusting properties of feed-back compression with an advanced, yet musically intuitive control scheme.
Feedback Compressor II beta 4
Re-built the whole project based on the JUCE library (previously VSTGUI).
x64 performance issues solved.
Fixed a bug which corrupted the claim "Bit transparent without processing".
Fixed a (practically irrelevant) bug related to an internal re-sampling filter.
Key Filter selection now via Combo-Box.
Smooth, fancy LED animations.
"Peak Mode" is now "Peak Ratio", was moved to the right and has a new switch graphic.
Velocity based knobs/sliders.
"Jump to default value" now via double-click.
The new beta is available to download for Windows (VST). With the move to the JUCE framework, Mac VST and AU is expected in the near future.
More information: Tokyo Dawn Labs / Feedback Compressor II