Tokyo Dawn Labs has announced an update to its SlickEQ and SlickEQ GE equalizer effect plugins for Windows and Mac.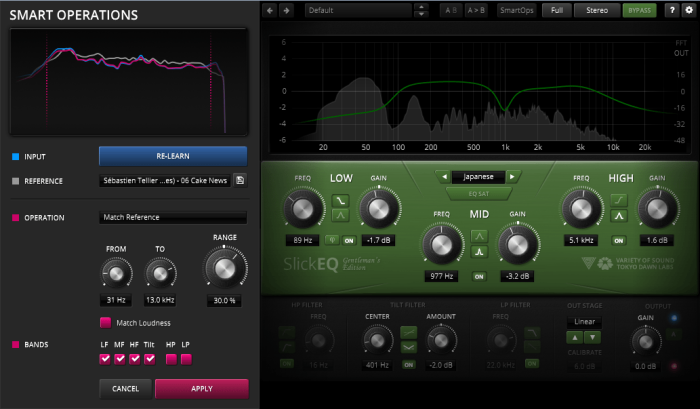 Version 1.3.0 comes with VST3 support, Catalina compatibility, 3 UI scales, and tons of fixes.
SlickEq GE in particular now features the SmartOps panel already known from Nova GE, and offers a new "Dual Mono*" stereo mode imposing randomized tolerance similar to real world electronics (we specifically analyzed an SSL 4000 console to extract its tolerances under various conditions). It's fun, double clicking the logo creates a new seed.
Changes in SlickEQ / SlickEQ GE v1.3.0
Added VST3 support.
Added UI scales: 100%, 125% and 150%.
Added "Live" quality mode offering zero latency operation.
Fixed possible lock when closing the plugin in certain hosts.
SlickEQ GE: Added "Dual Mono*" mode offering stereo operation with subtle randomized tolerances.
SlickEQ GE: Added Smart Operation Panel.
SlickEQ GE: Magnitude display updated.
SlickEQ: Fixed DC appearing in "funky" saturation mode.
SlickEQ: Various DSP performance improvements.
SlickEQ: Minor UI enhancements and fixes.
SlickEQ Gentleman's Edition is available for 30 EUR from Tokyo Dawn Labs and distributor Plugin Boutique. The update is free to license owners.
SlickEQ is a free download for Windows and Mac in VST/VST3, AU and AAX plugin formats.