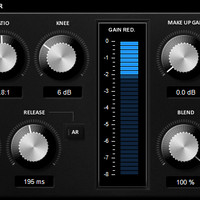 Tokyo Dawn Labs has updated the TDR Feedback Compressor RMS-based feed-back dynamics compressor plug-in to version 0.2.01.
The processor is dedicated to sum/bus compression and operates very smoothly – even under difficult conditions. The plug-in is the result of an intensive study about the musical behaviour of "classic" feed-back compressor designs. However, it has conceptually nothing in common with "pseudo analogue", "vintage" or similar buzz words. This is a proud digital processor, made with lots of love and care. :)
Changes in TDR Feedback Compressor v0.2.01
GUI and signal flow updated.
"Make-up Gain" now takes place before "Blend".
New "Output Gain" knob.
HF and LF harmonics are now adjustable to taste.
HF harmonics algorithm improved.
New "Delta" preview mode.
Small GUI tweaks.
The TDR Feedback Compressor v0.2.01 beta for Windows (VST) is a free download.
More information: TDR Feedback Compressor