Tokyo Dawn Labs has released updates to the TDR SlickEQ M equalizer effect plugin and DeEdger plugin by Ohlhorst Digital that controls the hardness of audio material while preserving dynamic impact and musicality.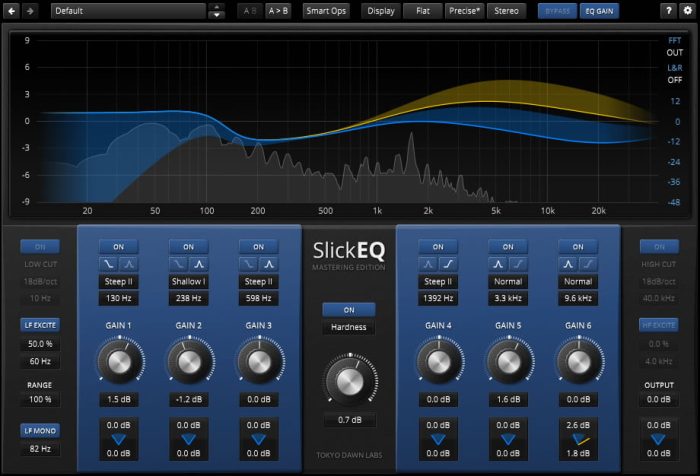 Changes in SlickEQ M v2.0.0
Added VST3 support
Added compatibility for macOS Catalina # Added 100%, 125% and 150% UI scale options.
Added advanced mixed phase modes for stereo width and balance filters.
Added "SumDiff" stereo mode offering operation similar to traditional M/S EQing.
Added "Mono" and exclusive channel modes "Sum", "Diff", "Left", Right".
Added ECO and LIVE (zero latency) processing modes.
Replaced LF and HF nonlinearity options with LF and HF exciters (legacy mode still accessible and recallable).
Added Smart Operations panel (incl. control over stereo width and panning).
Added source selector for the analyser: Off, Input, Output.
Added options for Stereo Analysis (stereo width and balance vs frequency).
EQ autogain no longer affected by HP or LP (projects recall as before, though).
Analyzer precision and reaction time improved.
UI performance improved.
Fixed bug in stereo width loudness correction (old projects recall as before, though).
Several little improvements.
Changes in OD DeEdger v1.2.3
Added VST3 plugin format.
Fixed compatibility with macOS Catalina.
The plugins are currently on sale at 40% off in a Black Friday sale at Plugin Boutique. The updates are free to existing users of SlickEQ M and DeEdger.
More information: Tokyo Dawn Labs