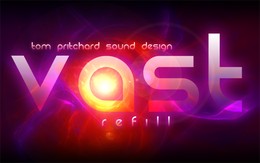 Tom Pritchard Sound Design has introduced Vast for Reason versions 4 and above, a unique ReFill packed with 465 inspiring, innovative and incredibly useful Combinator patches.
These Combinators make the most of Thor's modulation possibilities to create expressive, rich sounds that are full of movement and are incredibly playable. Every patch has been meticulously crafted to sound detailed and interesting whilst sitting comfortably in a useful frequency range, so you can easily drop any of these patches into a mix and get down to writing some great music without having to tweak them.

Vast contains 100 atmosphere & FX patches, 42 bass patches, 58 keys and polysynths, 100 leads and monosynths, 100 pads and 65 sequencer based synths.
More information: Tom Pritchard Sound Design