Jérémy Pinat has released version 1.2 of Ton, a drum machine for the iPad that offers an advanced sample-sculpting engine.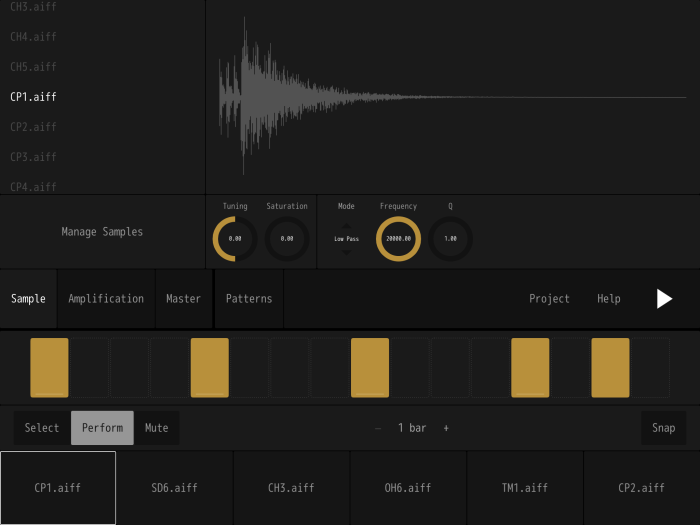 The update makes it possible to import custom samples (in-app purchase required), as well as various improvements to the step-sequencer, timing accuracy, tempo range, graphics, and more.
Each one of the 6 available tracks have its own saturation effect, a multimode resonant filter, an amplitude envelope, and can be routed to the two master effects, delay and reverb.

Combining these features with a step sequencer capable of parameter locking, Ton provides a powerful way to build fluid and organic rhythmic patterns.
Changes in Ton v1.2
Custom sample import using iCloud, Dropbox, AudioShare or iTunes File Sharing (in-app purchase.)
The step-sequencer can now be 1, 2 or 4 bars long. Sequence length can be set independently for each track. Lengthening a sequence automatically fills the new steps with existing values to support live play.
Drastically improved timing accuracy (0.02ms precision.)
Tempo range can now be set from 20 to 999 BPM using a new wheel-like control.
Patterns can now be used without leaving the main screen.
Improved graphics, including waveform visualization.
Ton is available from the iTunes App Store as a free download.
More information: Ton