Soundiron has launched Kontakt instrument library Tone Morels, a collection of unique stringed and tuned percussion instruments from selected Soundiron products.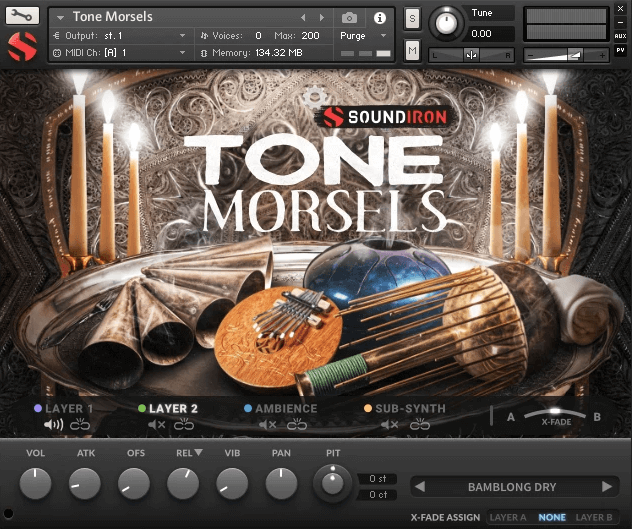 Tone Morsels (previously Tuned Micro) is a delicious appetizer platter of Soundiron's unique stringed and tuned percussion instruments. Soundiron took 14 libraries and selected a core set of samples that offer a grand introduction to the signature style, flavour, tone and quality of their full products. You'll find a curated selection of content from Soundiron's Alto Glockenspiel, Bamblong, Circlebells, Cylindrum, Imbibaphones, Kalimba, Music Box, Noah Bells, Struck Grand, Toy Glockenspiel, Twine Bass, Waterharp, Whaledrum, and Zitherette.

Tone Morsels will expand your tone blending capability and musical palate. For this update, Soundiron have added Alto Glockenspiel, Noah Bells, and new ambient sound-designed pads created from the source content.
Tone Morsels features
One master NKI instrument bank in open Kontakt format.
638 Stereo Samples.
920 MB installed.
24 bit / 48 kHz uncompressed PCM wav samples.
20 Custom Sound-Designed FX and Ambient presets.
Unlocked Kontakt presets and wav samples to allow user customization.
14 Stringed and Tuned Percussion Instruments.
30 Ambiences created from the source content.
Flexible and intuitive multi-layer user interface controls, with LFO, filter, glide, and arpeggiator.
Full FX rack with convolution reverb with custom rooms, halls, chambers & FX environments.
Tone Morsels is on sale at Soundiron and distributor Plugin Boutique for $19 USD through April 17th, 2020 (regular $29 USD).