Tone2 Audiosoftware has released version 1.2 of its Nemesis synthesizer instrument for Windows and Mac.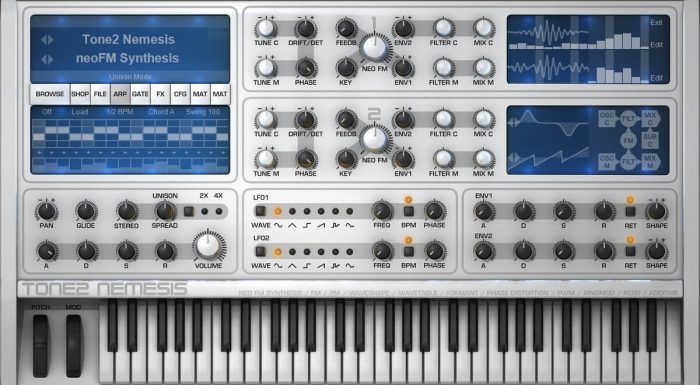 Nemesis includes traditional FM synthesis as well as a completely new and improved approach to FM called NeoFM synthesis. NeoFM and several other innovative synthesis methods are exclusively available in Nemesis. NeoFM is extremely powerful and intuitive. It is now easier than ever to get very good sounding results. The sound quality of Nemesis surpasses conventional synths, making it easy to locate the sonic sweet spot. Nemesis features an easy-to-use interface, which ensures that you will experience synthesis at its best and most entertaining.
Changes in Nemesis v1.2
New features:

Patches can be selected with up/down/left/right keys (if host supports it).
Patches in the browser can be selected with the mousewheel (if host supports it).

Enhancements:

Better sound quality: New high-end resampling algorithm for linear frequency response over 12 kHz.
Better performance when patch browser is open.
Enhanced patch browser usability.
Workaround for buggy hosts, which forget noteOff commands. The Arp does not longer produce a hanging note.
Better compatibility with Fruity Loops.
Minor improvements with the mousewheel.
Enhanced stability.
Enhanced performance.
Enhanced compatibility.

Changes:

Patch browser now saves rnk files within the Nemesis_sounds directory.

Bug fixes:

Fixed a rarely appearing problem with nonstandard mouse drivers.
Fixed an exotic problem where menus did not work because of a badly configured Windows.
Fixed minor problems with the patch browser.
Fixed a possible crash in that could happen if plugin was closed quickly after loading.
Nemesis for Windows and Mac (VST/AU) is available for purchase for 149 EUR incl. VAT. The update is free and 100% downward compatible with all previous versions.
More information: Tone2 Audiosoftware / Nemesis