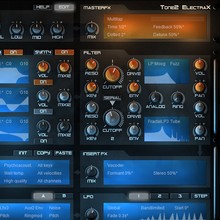 Tone2 Audiosoftware has announced the release of Chiptunes, a new soundset for the ElectraX software synthesizer.
Chiptunes is a collection of 220 beautiful old school sounds for ElectraX, inspired by classic computer & game consoles.

Whether you are already well versed into chip music, or just looking to add that vintage 8 bit vibe to your music, Chiptunes will provide you with those classic, nostalgia-inducing sounds that are synonymous with yesteryear's audio circuitry.

Turn your ElectraX into a classic 8 bit machine, with grungy basses, animated arpeggios, chirpy synths, dirty leads, trippy effects, old skool sequences and lo-fi drum patterns. All rich in character and ready to be used in the next fakebit production.

The Chiptunes soundset is suitable for Chiptune, Fakebit, 8-bit, Synthpop, Electrotune, Game, Complextro, DnB, Trance, Hardcore and a wide variety of other music genres.
The soundset costs 39 EUR inc. VAT.