Tone2 has announced the release of Icarus2, an update to the synthesizer workstation instrument for Windows and Mac.
The audio engine of Icarus2 provides high-end sound quality and a huge sonic range, shipping with 1,600 hand-picked patches created by professional sound designers.
The update comes with two multistage envelope generators (MSEGs) as additional modulation sources, a new X0X-style sequencer module, and a grid-based glitch sequencer for chopping your sounds to get modern glitchy, stuttering effects.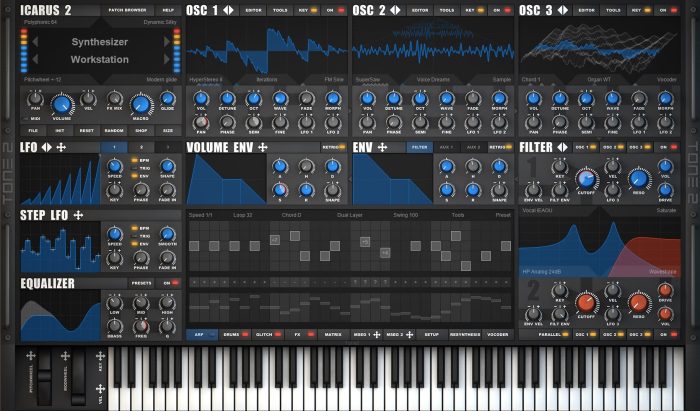 Icarus2 offers 54 different synthesis methods. The audio engine is not only able to create all classic synthesizer sounds. It can produce a vast range of fresh sounds, which are impossible with other products. The innovative '3D wavetable synthesis', which is exclusive to Icarus, creates a new dimension of sounds with dynamic expression and acoustic movement. Besides that many other unique synthesis-methods are available that can be combined freely.

Icarus comes with the largest collection of filters available within a synthesizer. The audio-engine offers many powerful features like a drum-sequencer, a built-in vocoder, re-synthesis, a glitch-sequencer, the most advanced wavetable-editor available, an extremely mighty oscillator section, MSEGs, …

However, the synth still remains very easy to use. A comfortable interface with drag & drop support gives you instant help, visual feedback and immediate acoustic results.
The audio engine offers high-end sound quality and extreme flexibility with low demands on the CPU.
Icarus2 is available in VST and AU plugin formats and standalone software for Windows and Mac. It has an introductory price of 149 EUR / $169 USD. Users of Icarus can upgrade for 79 EUR / $89 USD.
More information: Tone2