Tone2 Audiosoftware has released UltraSpace, an ambience-modeling effect plug-in for Windows and Mac.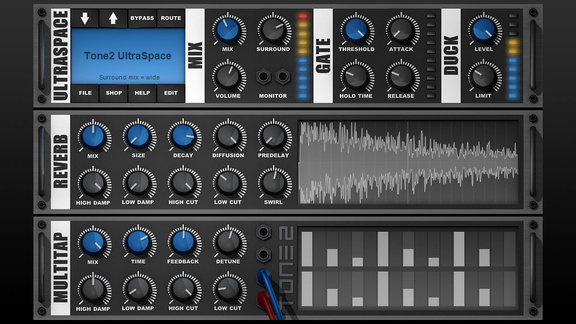 It is designed to simulate nearly any kind of room, echo or acoustic environment with high sound quality. UltraSpace is more than a reverb – it is a compilation of different effect units covering all important aspects of space simulation. By combining these units, completely new and unique effects can be created.

Tone2 has tried to unify the advantages of many popular hardware devices in one plugin. Because of its modular design and its flexibility, UltraSpace covers a large sonic range.
UltraSpace features
One compact plugin as an all-in-one solution for everything related to ambient simulation.
Replacement for a large number of very expensive hardware units.
Modules can be combined to create new and unique effects, not possible with competing products. Make your tracks stand out in the crowd!
Huge sonic range, and usable for a large number of applications.
Higher sound quality than competing products. Effect algorithms designed by DSP experts with 20 years of programming experience.
Excellent value for money.
150 inspiring patches created by professionals give you instant access to the right sound to quickly enhance your mixes.
Visual real-time displays and tooltips make it very easy to use.
Low CPU demand and multicore CPU support.
The plug-in is available for Windows and Mac (VST/AU) priced at 59 EUR / $79 USD.
More information: Tone2 / UltraSpace