ToneBoosters has announced the release of Compressor 4, an all-new mastering-grade, intelligent dynamics processor for Windows, macOS and iOS.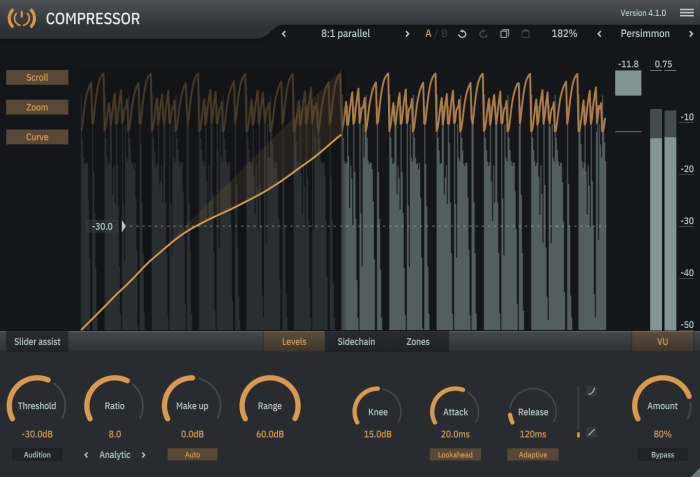 TB Compressor v4 comes with flexible compression zones, allowing you to specify what channels and what frequency range the compression should apply to.
Your new compressor was designed from the ground up based on three design pillars: sound quality, ease of use, and flexibility.

You won't find limitations of analog hardware in this compressor. We want you to simply get the best possible results quickly!
TB Compressor v4 features
Gorgeous and functional user interface that shows levels, compression and curves in real time.
Assisted sliders helping you to make the right decisions quickly.
External side chain option with channel selectors and full-fledged integrated equalizer.
Side chain real-time spectrum analyzer.
Compression zones: Select which channels and frequency range to apply compression to.
Ultra-low harmonic distortion (<-100dB typically) for pristine dynamics processing.
Unlimited internal headroom.
Lookahead attack and adaptive release options.
Configurable release curve shape.
Configurable soft knee and compression range parameters.
Audition modes for side chain and signal affected by compression in isolation.
Amount control for parallel / New York style compression.
High DSP core efficiency to allow many instances simultaneously.
Resizable user interfaces with many color themes to choose from.
Peak, peak hold and RMS output VU meters.
Real-time output spectrum analyzer.
Undo, redo, copy, paste, and A/B switching of settings.
Compressor 4 comes in VST/VST3, AU and AAX plugin formats, priced at 29 EUR. The iOS/AUv3 version is available from the App Store for $10.99 USD.
More information: ToneBoosters