ToneBoosters has released an iOS version of the recently updated Equalizer 4 AI-assisted, dynamic, analog-modeled equalizer effect.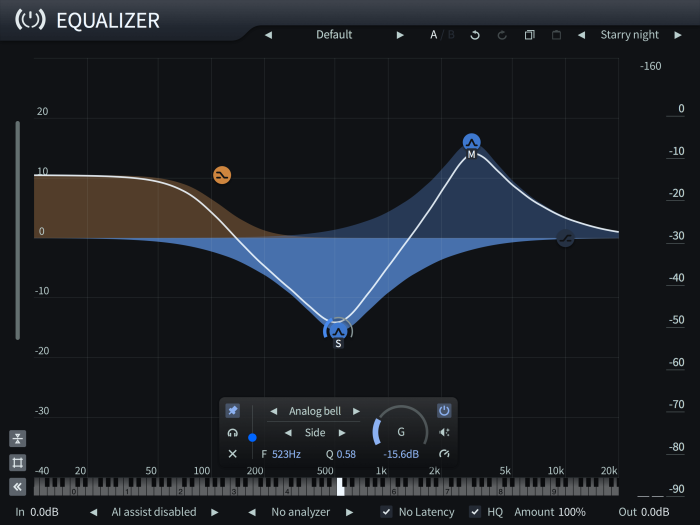 ToneBoosters Equalizer is a top-quality, professional, dynamic equalizer plug-in with an unrivalled workflow and a gorgeous, functional user interface.

The ToneBoosters Equalizer app captures the microphone (or external sound card) input and processes the signals in real time. To use it as a plug-in, use an AUv3-compatible host app such as Steinberg Cubasis, Apple Garageband, Audio Evolution Mobile Studio, Auria, or others. ToneBoosters Equalizer will appear in the list of Audio Unit extensions for effect plug-ins.
Equalizer for iOS features
Mastering grade, professional equalizer and spectrum analyzer.
The same professional sound as the desktop version.
Up to 16 filter sections with a very wide range of filter types.
Run each section in dynamic or static mode.
Run each section with digital purity or analog character.
Oversampling and anti-aliasing modes to further improve sound quality.
Use Artificial Intelligence (AI) for content-dependent equalization suggestions.
Audition mode to easily identify problematic frequency areas.
Automatic make up function for every section.
Zero latency mode for live operation.
Lasso function to select and move multiple filters simultaneously.
Piano display to select musical note frequencies.
Output VU meters showing peak and RMS levels simultaneously.
Undo/redo, and A/B comparison.
Color themes for the user interface.
Adjustable colors for every filter section.
Mid, side, left, right processing for stereo input for each section.
Legacy Inter-App Audio (IAA) support.
Efficient, low CPU usage.
The app is available from the App Store for $5.99 USD.
More information: ToneBoosters