ToneBooster has announced the release of TB-Dither, a quantization and noise shaping plugin for Windows and Mac.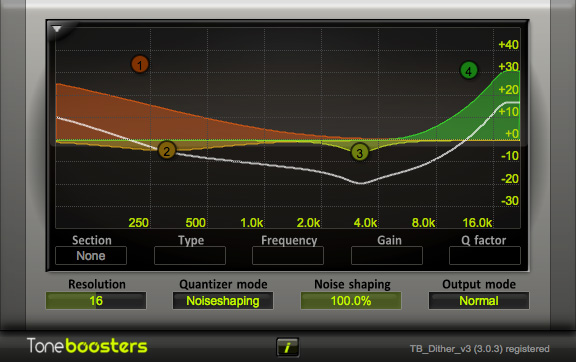 TB Dither is a plugin designed to modify the bit depth of audio signals, for example when authoring a CD or for archival purposes, with minimum quality degradation. Such process typically involves dithering, quantization, and noise shaping.

TB Dither supports industry-standard dithering noise types such as RPDF (rectangular probability density function, 1 LSB wide) and TPDF (triangular probability density function, 2 LSBs wide). A GPDF (Gaussian probability density function) is provided as well.
TB-Dither features
Zero-latency processing.
Support of all sampling rates from 44.1 to 192 kHz.
Supports industry-standard RPDF and TPDF dithering noise.
Unrivalled flexibility to shape dithering and quantization noise.
Suports any bith depth between 8 and 24 bits.
Dedicated modes to listen to quantization noise only.
Advanced noise-shaping overload protection algorithm.
TB-Dither for Windows and Mac (VST/AU) is available to purchase for 9.95 EUR.
ToneBoosters has also updated it's plug-in line to version 3.0.3.
Changes in v3.0.3
All plugins

Fixed a minor GUI memory leak.

Dither
Barricade

Improved accuracy of RMS output VU meter.
Improved quantization and noise shaping algorithm (derived from TB Dither).

EBULoudness

Fixed an issue causing the loudness history graph not displaying correctly when closing and re-opening the GUI.
Mitigated a crash due to a bug in Wavelab when using EBU Loudness on stereo tracks.

Module

Fixed a bug that could result in inresponsiveness of Module.

ReelBus

Added 'legacy' saturation mode to simulate v2.9 behavior.

BusCompressor

Added channel linking control and stereo gain meters.
Improvement in transient detection/compression algorithm.
More information: ToneBoosters