ToneBoosters has released version 4.1 of Barricade, a transparent, mastering-grade compressor and brickwall limiter effect plugin for Windows and Mac.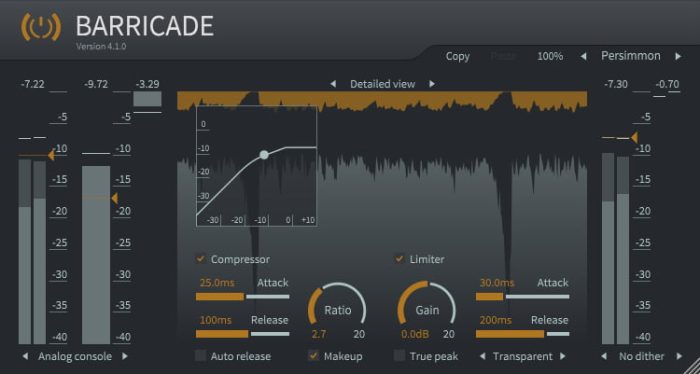 TB Barricade v4 is a simple yet very effective and transparent brickwall limiter that is suitable for individual tracks as well as mastering work. It supports digital input and output peak meters, RMS meters, and gain/attenuation meters, all with peak hold functionality. True peak / inter-sample peak (ISP) detection circuits can be enabled that are in line with EBU R-128, ATSC A/85 and ITU-R BS.1770 allow to generate true-peak compliant audio signals.

TB Barricade v4 provides various limiter modes that behave differently and can be used for creative or transparent limiting.

On top of the peak limiter, an peak compressor is included with adjustable ratio, threshold, attack and release times. This compressor uses the same advanced envelope tracking technology as used for the peak limiter, providing accurate and musically-sounding compression.

Last but not least, TB Barricade v4 sports an input modeller. This section can add anything from subtle analog or tape saturation to hard clipping to add that extra glue to your mixes!
Changes in Barricade v4.1
Fixed VST category shown in some hosts.
Extended AU and VST3 multi-channel capabilities to include 7.1.
Fixed an issue causing the VST2 version to show up as 8-channel plugin while only supporting mono and stereo.
Added mouse wheel functionality to threshold draggers on VU meters.
Changed slider mouse wheel behavior for sliders – mousewheel can now be used for fine editing.
Added option to disable scroll view and added new parameter and detailed views.
New input modeller with console, tape, and clipping models, and variable threshold/drive setting.
Limiter gain control now shows the gain realized by the limiter in real time.
Added quantization, dithering and perceptual noise shaping output option (16 and 24 bits).
Added tooltips to user interface elements.
Increased startup time during scanning and opening GUI in some hosts.
Extended set of presets (VST2 and AU, and VST3 if supported by host).
Various optimizations and stability improvements.
Barricade (VST/AU) is available for purchase for 30 EUR. Barricade v3.0 users can upgrade at a discount.
More information: ToneBoosters