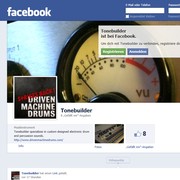 Tonebuilder has announced a free sample pack featuring two free drum kits with LinnDrum and Oberheim DMX sounds.
I just uploaded/completed 2 new FREE electronic drum kits. These two feature the classic Linn + DMX sounds made famous by many… but I always think of Prince and Kurtis Mantronik.

The kits are aptly titled ARTIST and TRONIX. I tried to make them as much load and go as possible. Try them out with just some light buss-compression and/or EQ.
Free drum kits features
32 samples in 24-bit/96kHz WAV/AIF, 16-bit/44.1kHz WAV.
2 Maschine Kits.
2 Kontakt Programs.
2 EXS-24 Programs.
2 Geist Kits.
2 Guru Kits.
The sample pack is a free download for ToneBuilder Facebook fans.
If you like these samples make sure to check ToneBuilder's Driven Machine Drums Strikes Back, a limited edition sample library featuring over 2,000 premium designer drum samples.
More information: ToneBuilder