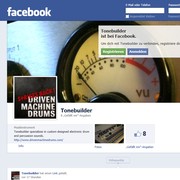 ToneBuilder has released DMD-Free, a free mini-collection of 66 new drum sounds.
Comes with 24-bit Wav/Aif, 16-bit Wav + 24-bit EXS-24 and Kontakt Mappings.

Make sure to play with the envelopes on your sampler/software. Like Driven Machine Drums STRIKES BACK!!, the samples will repond like compressors/gates by adjusting the hold and decay stages. (AHD envelopes)

The samples also have carefully textural changes so you can easily achieve 10+ natural/organic variations per sample with different envelope settings… like hardware.
The DMD-Free pack is a free download at the ToneBuilder Facebook page.
If you like these, make sure to check the full Driven Machine Drums Strikes Back library, only a limited amount of copies is left for sale (currently at 40% off). Check my review here.
More information: ToneBuilder