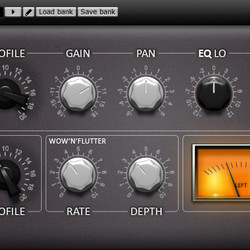 ToneBytes has announced Tape Noise, a VST format plug-in for Windows, which adds the sound and atmosphere of analog recordings to your tracks and mixes.
The purpose of the plug-in is to add real sounding analog noises from different sources. For this goal, Tape Noise has 21 delicious tape noise profiles, sampled from actual magnetic tapes, compact cassettes and reels such as TDK D-C60, Maxell XLII-S, DENON RD50, BASF chromdioxide super II, etc.

With the help of the embedded equalizer, it is possible to either emphasize or reduce those parts of the noise profile you want. The features of the equalizer are selected in such a way that it keeps its use of noise sounding natural.

Built-in preset based tape frequency response simulator and Wow'n'Flutter also adds some vintage feeling to your sound.
Tape Noise features
32 Factory presets based on 21 of actual tape noise profiles.
Built-in preset manager makes it easy to save the settings and quickly access them or share them with other Tape Noise users.
VST automation and full MIDI Learning are supported.
The plugin costs $20 USD / 15 EUR.
More information: ToneBytes / Tape Noise