Plugin Boutique has launched a sale on Toneforge Ben Bruce, a virtual guitar amp effect plugin by Joey Sturgis Tones in collaboration with the lead guitarist of Asking Alexandria, who is well known for his wide variety of guitar tones.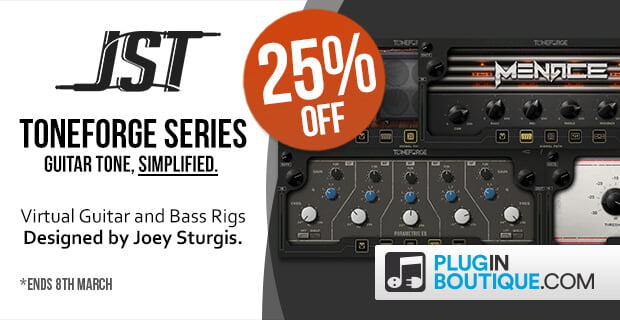 By combining select elements from each Asking Alexandria production along with key features from Ben Bruce's live setup, the brand new Toneforge model nails the entire range heard on Asking Alexandria's albums.
"I love how versatile it is. Guitarists who use this product will not be limited to any one particular genre. You can go all out heavy and write riff after riff, or you can dial it back and play some tasty blues licks. The clean Channel is superb and is capable of delivering crystal clear, crisp tones or can be dirtied up enough to still sound clean and soft but provide players with the grit and balls reminiscent of early Jimmy Page licks." – Ben Bruce
Toneforge – Ben Bruce offers rhythm and clean channels, four stomp boxes (overdrive, stereo delay, rotary, and reverb) as well as Joey's uniquely designed mixing DSP to take your guitar sound from direct input to final mix. It also includes a built-in Impulse Response loader for simulating your own cab / mic setups.
Toneforge Ben Bruce for Windows and Mac (VST/AU/AAX) is on sale for $69 USD until March 9th, 2018 (regular $99 USD).
More information: Toneforge Ben Bruce