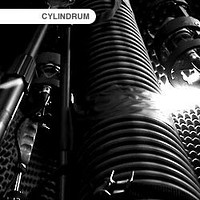 Tonehammer has released Cylindrum, a sample library featuring a custom built instrument known as: "Cylindrum".
The Cylindrum is a massive custom built tuned percussion instrument ranging over 4 octaves, so a percussionists dream come true. The Cylindrum contains three separate variations of the instrument (light, dry and wet).

The light version is made from a series of 1.5 inch PVC pipes played by tapping fingers over one end, while microphones were positioned in the opposite end. The dry version was made a series of 4 inch ADS corrugated tubes with an open-ended rubber head played with a paddle. The wet version was recorded in our signature hall and has a more percussive feel then the dry and light versions – resulting in a sort of tuned tom-tom sound.
Cylindrum features
Dry and Wet Recordings.
10 x round robin and 8-10 velocities for dry and wet version.
Cylindrum Light (1.5 inch PVC Pipes tapped w/ fingers).
Cylindrum Dry (4 inch PVC Pipes played with rubber mallet, includes muted hits w/pedal).
Cylindrum Wet (Massive PVC Pipes recorded in orchestral hall).
Cylindrones (Ambient Drones made from Cylindrum samples).
Extensive read me install, patch and hint documentation (.pdf) (download here).
8 instrument patches, 3,362 samples, 844 MB installed, 266 MB .rar download.
Sample resolution: 44.1Khz/16Bit stereo .wav format.
Format(s): Kontakt 2 and .wav.
Cylindrum is available for download now for $39 USD.
Visit Tonehammer for more information and some audio demos.