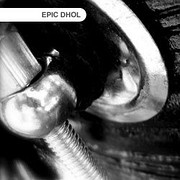 Tonehammer has released Epic Dhol, the follow-up to Epic Toms Vol. 1 and Vol. 2.
We bought three high-end Punjab Dhol drums and recorded them in the same orchestral hall as our Epic Toms. The Punjab Dhol is a double-sided barrel drum large and bulky to produce the preferred loud bass. The drum consists of a wooden barrel with animal hide or synthetic skin stretched over its open ends, covering them completely. These skins can be stretched or loosened with a tightening mechanism made up of either interwoven ropes, or nuts and bolts. Tightening or loosening the skins subtly alters the pitch of the drum sound. The stretched skin on one of the ends is thicker and produces a deep, low frequency (higher bass) sound and the other thinner one produces a higher frequency sound. In contemporary Punjabi music, dhols with synthetic, or plastic, treble skins are very common.
Epic Dhol features
Core Dhol Drum Articulations (each with 10 velocity layers – 10 round robin):

Dhol Bass Drum w/ traditional Dhol stick
Dhol Bass Drum w/ mallet
Dhol Bass Drum w/ hands
Dhol Bass Drum w/ fingers
Dhol Body Rim Shot 1
Dhol Body Rim Shot 2
Dhol Snare Drum w/ traditional Dhol bamboo stick
Dhol Snare Drum w/ mallet
Dhol Snare Drum w/ brushes

874 BPM loops w/ assorted percussion.
80, 90, 110, 120, 130, 140 BPM.
Extensive read me install, patch and hint documentation (.pdf).
Exclusive Mike/Troels talking about the Epic Dhol library (mp3 interview).
20 instrument patches, 2.063 samples, 1.7 GB installed, 995 MB .rar download.
Until 22 April, 2009, Epic Dhol is available for the introductory price of $89 USD for the 16bit/44.1kHz version (regular price $99 USD), and $99 USD for the 24bit/48kHz version (regular price $109 USD).
Visit Tonehammer for more information and audio demos.