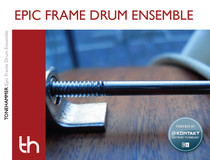 Tonehammer has released Epic Frame Drums, a new sample library for Native Instruments Kontakt.
The Tonehammer "Epic Frame Drum Ensemble" library contains deep sampled Irish Bodhrán drums, North African Tar drums, Egyptian Riqs, Persian Dafs and North American tribal drums. We captured them in a large A-frame chapel for an authentic, naturally massive sound that no artificial algorithmic or convolution reverb can truly simulate. We recorded in divisi and full ensemble groupings and covering both traditional and expanded playing styles and articulations. This library is ideal for powerful epic scoring and any composition that calls for massive sounding percussion.

We also captured a huge bonus collection of +1.100 BPM-based performance loops (80-140 BPM). The loops include automatic tempo-syncing functionality that allows them to be matched to a fairly wide range of custom project tempos.
Epic Frame Drums features
10 different frame drums, covering of all sizes and origins.
Recorded naturally wet in a rich, lush, large epic church.
Deep multi-sampling, with 10X Round robin on all notes and plenty of velocity layers for truly dynamic playability and realism.
Half-step instant retuning with key-switching, attack, room decay shaping and custom convolution reverb controls with unique real-world and sound designed impulse files.
Full Kontakt 4 and Kontakt 4 Player compatibility.
Custom Presets: Master tuned and un-tuned mega-patch.
Divisi patches for each group and subgroup Divisi patches for solo drums.
A wide variety of mallet types and hand positions Exotic percussion effects, rolls, swells and skin drones Body stomp, clap and bible thumping percussion.
A bonus collection of 1157 live-recorded ensemble and solo frame tempo-synching drum grooves recorded at 80, 90, 100, 110, 120, 130 and 140 BPM.
Automatic host-tempo syncing solutions for all loops also included.
Extensive read me (.pdf) install, patch and hint documentation.
75 instrument patches, 2509 Samples.
2.3 GB installed, 1.6 GB .rar download.
Sample resolution: 44.1Khz / 24Bit stereo .wav format.
Format(s): Kontakt and .wav.
Epic Frame Drums is available to purchase for the introductory price of $99 USD until $99 May 10, 2010 (regular price $109 USD).
More information: Tonehammer / Epic Frame Drums