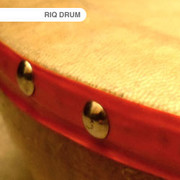 Tonehammer has released Riq Drum, a percussion sample library for Kontakt.
The traditional family of Middle Eastern (Arabic) hand percussion instruments is generally defined as an open shell frame drum drum with large cymbals or jingle – aka Riq Drums. It is similar in appearance and origin to a tambourine, but this broad family of specialized drums is treated as a very serious and deeply nuanced instrument class in both traditional and modern Middle Eastern, Central Asian and Eastern European music. Rather than simply being an accompaniment or backing instrument, the Rik family of drums can often take a lead or solo role. The jingles, rattles or rings are often played as a discreet component of the drum, along with a broad range of unique head and rim finger and hand articulations.

For our Riq Drum multi-sample library, we captured a pair of full-sized drums, one larger 15-inch "daf" drum from Greece with metal rings and bearings (actually called a daf) and one smaller 13" riq drum from Egypt with wide tin "cymbals". We also captured a toy frame drum that we've modified into a miniature riq, by adding a series of fine sand-filled rattles. We've also included a very large collection of ambient droning and "synth" percussion instruments, created entirely through heavily manipulating the source recordings for this library.
Riq Drum features
3 professional Riq drums recorded in dry studio environment.
10 round-robin variations on all major articulations.
Up to 8 velocity layers per articulation.
22 core articulations for Riq, Daf and Baby Riq (bone & felt mallet strikes, wooden dowel "hotrods", brushes, finger & hand strikes, shake singles & rolls, "tabla-style" bass bends).
74 Bonus Ambient Drones and "Synth" drums, w/ round-robin & modwheel filter control.
Bonus Custom-made Convolution Reverb Impulses.
Bonus: Custom Convolution Reverb Impulses.
Extensive read me (.pdf) install, patch and hint documentation.
36 Kontakt patches, including one patch with everything / 2.310 samples.
1.38 GB installed, 806MB .rar download.
Sample resolution: 44.1Khz / 24Bit stereo .wav format.
Format(s): Kontakt and .wav.
Note: Native Instruments Kontakt 3 / 4 full retail versions required for all Kontakt instruments.
Note: Free Kontakt Player will only work for 30 minutes with this product. Full version of Kontakt is required to remove this restriction.
Riq Drum is available to purchase for the introductory price of $39 USD until February 12, 2010 (regular $49 USD).
More information: Tonehammer / Riq Drum