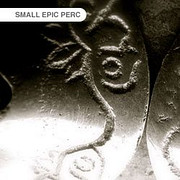 Tonehammer has released Small Epic Percussion, a collection of small orchestral and ethnic percussion instruments intended both to compliment our existing collection of epic drums.
We captured the majority of them in the same epic hall and using the same techniques as our Epic Dohl, Tom and other wet libraries, so we think it will mesh well with most of them right out of the box.

It also stands alone as a unique toolbox of under-appreciated but often called-for items, like the tambourine and finger cymbals. We not only went out of our way to capture these instruments as deeply as we could muster, but tried as much as possible to discover new ways of thinking about and playing them. You may notice some unorthodox articulations included with some of the instruments, as well as a few strange combinations and mutations that we hope will inspire you to play and create.
Small Epic Percussion features
55 instrument patches, 2.797 samples, 1.6 GB installed, 600 MB .rar download.
Sample resolution: 44.1Khz /mixed 16/24 bit and stereo .wav format.
Articulations:

Solo and ensemble claves, vibraslap, sticks, rattles, various shakers, metal rattles and bells.
Large Tambourine.
Finger Cymbals.
Ship's Bell.
Concert Triangle.
Native American rabbit skin shaker/hand drum.
Monkey Drum.
Wooden Frog Rasps.
Bonus morphable ambient soundscapes and pads, as well as special custom instruments and effects patches.

Extensive read me install, patch and hint documentation (.pdf).
Interview w/Mike Peaslee / Troels Folmann on Small Epic Percussion (mp3 interview).
Format(s): Kontakt 2 and .wav.
Small Epic Percussion is available for the introductory price of $35 USD until July 1, 2009 (regular price is $39 USD).
Visit Tonehammer for more information and audio demos.