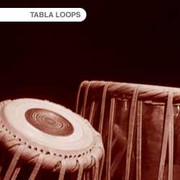 Tonehammer has released Tabla Vol. 1: Loops, a sample library featuring tabla loops by Sameer Gupta.
The tabla is a popular Indian percussion instrument used in the classical, popular and devotional music of the Indian subcontinent and in Hindustani classical music. The instrument consists of a pair of hand drums of contrasting sizes and timbres. The term tabla is derived from an Arabic word, tabl, which simply means "drum."

We worked with tabla master and jazz percussionist Sameer Gupta (www.sameergupta.com), to capture a range of tabla rhythm, melody and soul. Sameer has been a student and practitioner in the art of percussion for nearly 25 years, traveling the world to study and perform in some of the world's most prestigious institutions and venues

To call tabla a mere percussion instrument alone would be a vast understatement of its musical range, as one of the most revered of all classical Indian musical instruments.
Tabla Vol. 1: Loops features
Studio (dry) recorded tablas.
Articulations include uniquely recorded tabla rhythms at 70-200 BPM loops/phrases.
Additional tuning patches.
Key-switch pitch control allow shifting up to +/- 7 semitones.
Extensive read me (.pdf) install, patch and hint documentation.
Listen to exclusive (.mp3) interview w/ Tabla Master, Sameer Gupta & Mike Peaslee.
27 BPM banks, +1.300 phrases / loops.
1.8 GB installed, 1.3 GB .rar download.
Sample resolution: 44.1Khz / 24Bit stereo .wav format.
Format(s): EXS and Kontakt .nki.
Note: Native Instruments Kontakt 2/3/4 full retail versions required. Free Kontakt Player not supported.
Tabla Vol. 1: Loops is available for the introductory price of $69 USD until 25 December, 2009 (regular price $79 USD).
More information: Tonehammer