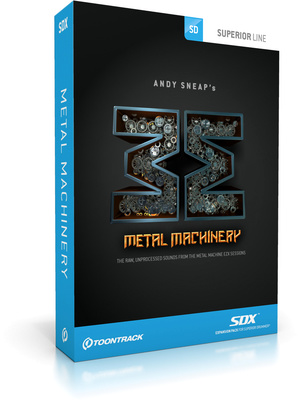 Toontrack has announced the release of Metal Machine SDX, a Superior Drummer 2 sound library featuring the original recording that was used as the foundation for the Metal Machine EZX, arguably the most popular set of metal drum sounds on the market.
What makes it different from the EZX version is that the SDX sounds are raw and without post-processing, meaning the source material recorded directly at the studio. It comes with fundamentally the same collection of instruments but includes a wider variety of mic selections as well as a custom bank of kit presets.

The sessions were conducted at Studio B of Los Angeles' Henson Recording Studios. Formerly known as the A&M Studios, these landmark facilities have housed the who's-who of the recording industry of the past few decades. Heavy acts like Metallica, Soundgarden, Kiss, Pearl Jam and many others have all mixed or recorded groundbreaking works here.

At the helm recording, a man that needs no introduction to the world of metal; Andy Sneap. Having produced and mixed defining albums by some of modern metal's most priced acts like Testament, Megadeth, Accept and Killswitch Engage, Sneap has had an instrumental role in shaping the sound of metal as we know it in the new millennium.

This library comprises three full kits as well as a wide assortment of cymbals and snares drums, which were all recorded using the utmost in recording equipment. With its concrete-lined walls, the room at Studio B produces a hard but still deep and precise tone, making it a perfect sonic environment for big, reverberant rock and metal drums. This room really brings out the very essence and raw nature of these instruments.

This is more than a collection of drums for just rock and metal. With the powerful tools of Superior Drummer 2, it's a clean canvas of the finest of raw material, ready for you to harness, shape and mold into something truly unique.

The Metal Machinery SDX also comes with a MIDI groove library performed by Nick Barker (ex-Cradle of Filth, ex-Dimmu Borgir). This is also available as a separate release (Metal Machinery MIDI).
Metal Machinery SDX features
Three kits (2 x Tama Starclassic Bubinga, Ludwig Stainless Steel) as well as a large selection of snare drums and cymbals.
Produced and engineered by Andy Sneap.
Recorded at Henson Recording Studios in Los Angeles, USA.
Six (6) kit presets including custom samples, designed and mixed by Andy Sneap.
Included MIDI played by Nick Barker (ex-Cradle of Filth, ex-Dimmu Borgir).
The Metal Machine SDX is now available for purchase for 159EUR. The Metal Machine MIDI pack is 25 EUR.
More information: Toontrack / Metal Machine SDX