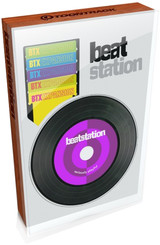 Time+Space has announced that Toontrack's Beatstation is now available to pre-order.
Beatstation marks the next step in powerful yet simple sound design and music production.

It's not just a drum sampler. It's not just a bass sampler. It's not just a melodic sampler. It's all of these things combined in one powerful but simple window, that puts you in the musical driver´s seat.

Combining drums, bass and lead instruments with drag and drop, REX and MIDI support, Beatstation is your companion for quickly getting a full beat up and running or for diving into the smallest details of what you want your sound to be.

Whether you use it on your portable traveling rig or in a full-on studio context, Beatstation adapts to meet the challenges of every production situation. It is not tied down to genre or style nor is it defined and limited to the use of a single group of musicians or producers.

Beatstation is constructed with Toontrack´s premium components and the experience and passion of one of the world´s best sound design teams.
Beatstation is due for release on 15 June, 2010. You can pre-order it now from Time+Space for £79 GBP / 89 EUR.
More information: Time+Space