Toontrack is offering a 60% discount on Classic Amps, an expansion pack featuring a collection of presets for the EZmix 2 mixing tool.
The pack offers 50 guitar tones modeled after the most influential amps of the past 50 years.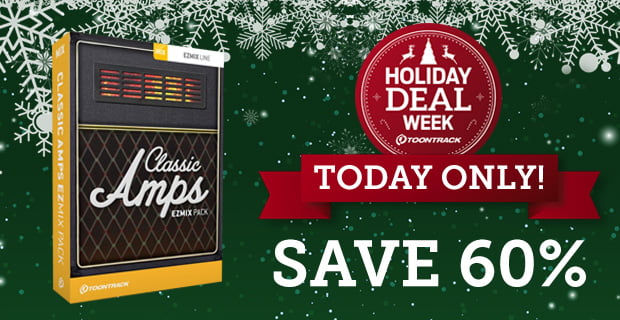 Some amps are so intertwined in the fabric of guitar driven music that its tones are unmistakable. For the past six decades, they have been the voice and vehicle of countless legendary players and in the process become legends themselves. We're talking about classic amps – the tube driven work horses that defined and keep redefining genres.

"We wanted to model the most influential amps of the past 50 years and put together a collection of tones that could work for any kind of guitar oriented music. We ended up with settings spanning anything from blues to British Invasion, punk, grunge and pop", says Toontrack sound designer Ulf Edlund.

The 50 guitar tone presets included in this pack present complete signal chains including amps, stomp boxes, speakers and various effects. The speakers were modeled using custom impulse responses, capturing the essence of several premium vintage cabinets and combos. The settings express a wide variety and cover anything from clean and muffled rhythm sounds to rich and saturated leads.

This collection is a testament and homage to the amps that managed to survive and seep through several decades of musical progression. The inspiration to your next riff is just a mouse-click away. Make sure it sounds great – add some of that warm tube sizzle, subtle speaker rattle or warm fuzz to it!

Some say the tone is in your fingers. We beg to differ.
Classic Amps for EZmix 2 is available at 60% off from Plugin Boutique until December 23rd, 2016.
More information: Toontrack / Classic Amps