Toontrack is offering a 70% discount on its Basic Rock Fills MIDI pack, a collection of drum fills MIDI suitable for any type of modern rock.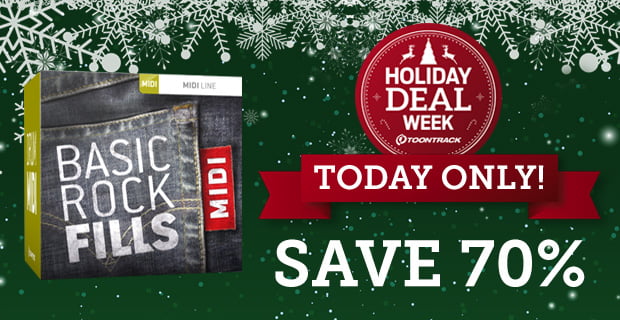 Transitions are key. Make sure to smooth them out with subtle but nuanced fills!

Basic Rock Fills MIDI is a follow-up to Basic Rock MIDI and focuses entirely on the one thing you can never get enough of: fills. The little twists and turns that accentuate, ornate or make for smooth transitions in your songs – the bits and pieces that make your music elevate and transcend.

"I sometimes find that drummers over-complicate things and dramatize their fills too much. I am not a complicated drummer and never aspired to be. I don't want to get in the way of the song, just make it lift off where it truly needs to and harness it in between", says drummer Martin Kristoffersson.
Basic Rock Fills MIDI is available at 70% off from Plugin Boutique until December 24th, 2016.
More information: Toontrack / Basic Rock Fills MIDI